TKO has completed a modern, spacious and elegant medical fitout for Western Australian Gynae & Surgery in Salvado Road, Subiaco. Western Australian Gynae & Surgery is a gynaecology and oncology practice dedicated to providing a highly specialized service centred around advanced laparoscopic surgery and comprehensive cancer management.
TKO conducted the design and construction of the new facility combining what was previously two tenancies into one stylish, purpose built medical practice. The medical fitout features a number of full height windows to maximise the use of natural light and meticulous finishes throughout.
The new facility includes: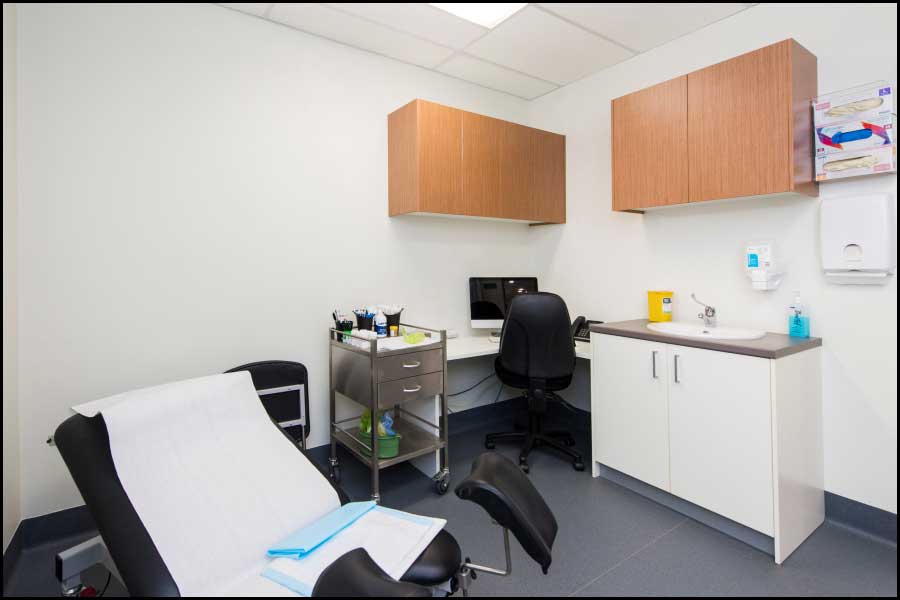 A spacious reception and waiting area with two reception desks, feature lighting, custom cabinetry, drop bulkhead ceilings and seating for up to 15 people.
Four consultation rooms.
Five examination rooms.
Sterilization room.
Kitchen/staff break out room.
Nurses room.
Staff bathroom.
Server room.
Features of the medical fitout include:
Coved vinyl flooring in medical areas for easier cleaning and maintaining a sterile environment;
Custom cabinetry including reception desks and cupboards;
Custom signage on the windows, reception and exterior; and
Medical grade stainless fixtures and fittings.